The Wyalkatchem CBH and Agricultural Museum wish to thank the Federal Government, State Government, Wyalkatchem Shire and the many volunteers who have made the shed extensions on the western end of the museum reserve possible.
Situated on a heritage railway site in the main street of Wyalkatchem, the main museum building is a 1936 "K" type wheat bin which is believed to be the oldest in preservation; along-side this are a series of purpose built display buildings and a new addition is the recently completed Community Resource Centre – "The Bushel".

Since opening in 1981 a committed team of locals have accumulated a huge collection of general memorabilia, tractors, dozers and agricultural equipment, stationary motors, army/medical displays, vintage motor vehicles and hundreds of other artifacts from a long forgotten era .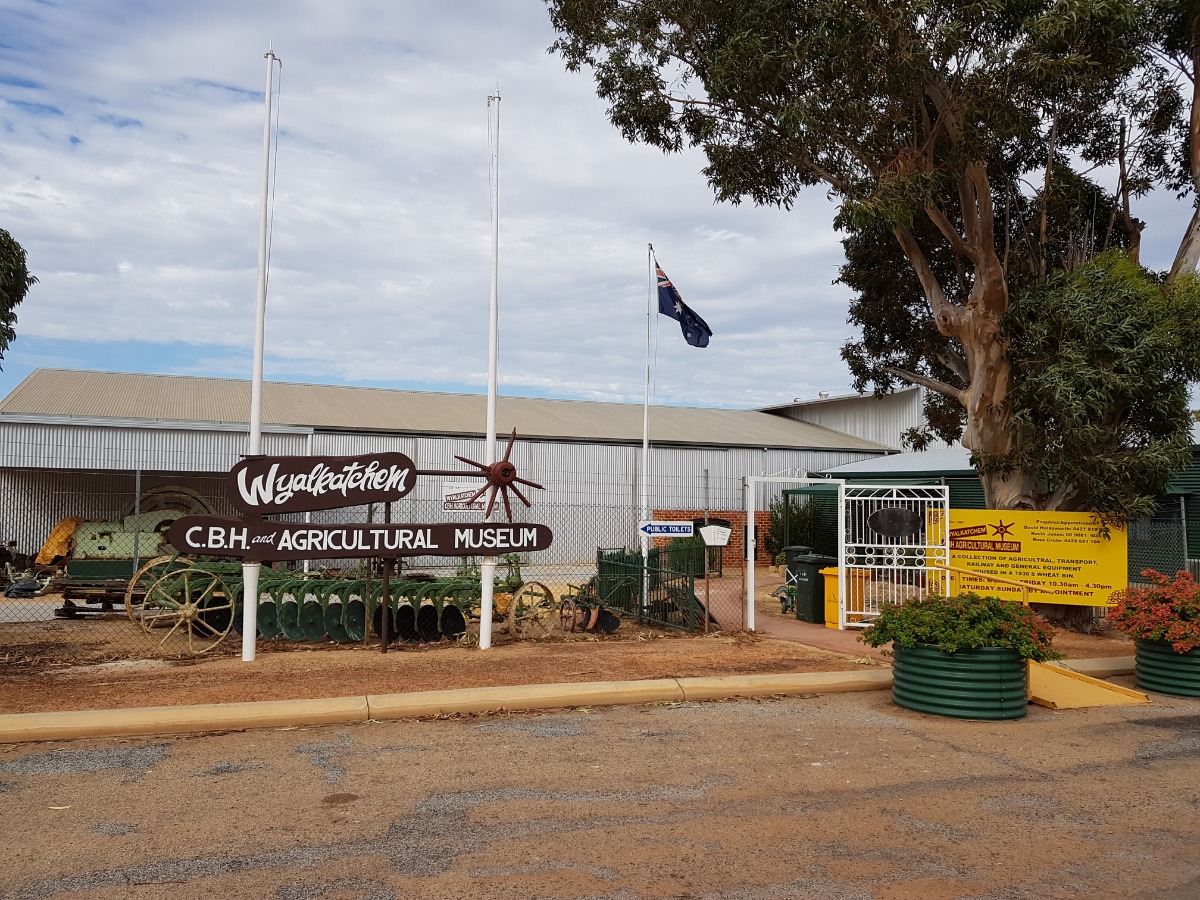 Museum Entry 2020
Through its exhibitions, it seeks to relevance through the collection and preservation of exhibits, artifacts and the sharing of stories representing our rich and diverse history. By preserving the quickly fading agricultural heritage of the Central Wheatbelt Region, our Museum stands as an important legacy for future generations.
Amongst the big boys toys the pride is the fully restored 1914 John Deere "Waterloo Boy" tractor along with many other working tractors, stationary engines and other agricultural machinery,  this can be seen in action at our bi-annual 'Heritage Machinery Operating Day'.
The importance of grain production to the regions economy remains today and the historical start to the bulk handling of wheat in Australia began with the first recorded load of grain from Mr Harry Threlfall from Korrelocking on the 9th of November 1931 in the Shire of Wyalkatchem.
Exhibits include "as is" displays along with restored and operational equipment, premium examples of over a hundred years of agriculture and transport in Australia.
Not far from the Museum is the heritage "The School-House Museum", a step back in time to the 1920's. Presenting an opportunity to show off a collection of furniture and nick-nacks from last century, still set up as it was in the 1960's when last used to house the school-masters family.
The museum is undercover and wheelchair accessible. Toilets, both standard and disabled are onsite and oral histories of farm men and women are now being recorded. Prints in the collections show hundreds of scenes of rural life last century.
"Wyalkatchem CBH Agricultural Museum Association Inc."